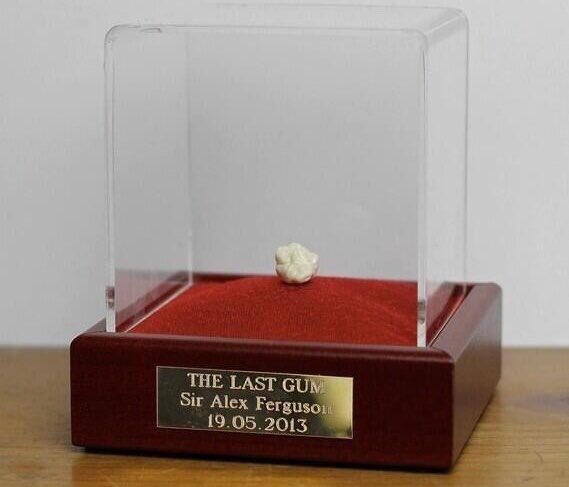 Sir Alex Ferguson was in charge for 1,500 games in his glorious 26-year stint in charge of Manchester United and we're estimating he went through at least 3,000 packets of chewing gum.

Whenever there was a shot of Fergie on the touchline or on the Old Trafford bench you would always see him chewing away.
Fergie was given a pack of chuddies by West Brom's mascot as a gift prior to the game and his last ever chewing gum was picked up by a fan.
The fiery Scot would chomp on his chewies more aggressively if United were losing and it was the easiest way to work out Fergie's stress levels.

And he would have gone through a fair amount of gum in his final game as United boss - the first ever 5-5 draw in Premier League history against West Brom at the Hawthorns in 2013.
The supporter then put it on ebay and let the bidding commence, with the listing for the piece of history stating:

"Used chewing gum: RARE. Recovered from The Hawthorns. Clear Perspex/wooden case. Unofficial merchandise, rumored to belong to Sir Alex. After 1,500 games of intense chewing as manager of Man Utd, here lies Fergie's last piece of chewing gum.

All proceeds went to the MU Foundation charity."